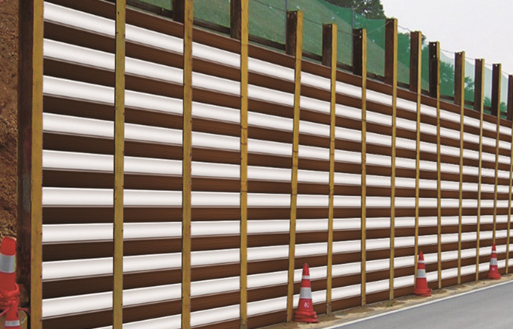 Earth plate
PL10 Resin Lagging Plate
The lagging plates are stacked between several H beams, which are fixed vertically at regular intervals on the ground, to temporarily prevent the collapse of soil during civil works, thereby securing stability from collapse. They are temporarily constructed structures that act as a barrier for preventing the collapse of nearby soft ground caused by underground bed excavation work.
| | |
| --- | --- |
| standard | L1000 x W150 x T70 mm |
| Features | |
Features
Economic Feasibility

As our product is produced domestically, this product can realize a large import substitution effect. Semi-permanent use is available due to excellent durability.

Construction

As the product has light weight, easy transport and construction are available.

Material

The product is made from resin, this product will not decay or have any external deformation (or discoloration) even after long-term use.

Visibility

As it can be produced in various colors, it has good visibility.

Durability

As it has a special rib structure, it has enough resistance to withstand earth pressure.
Product Information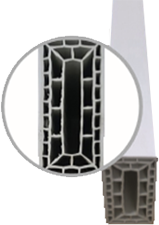 Since this lagging plate is made from resin material, the production of lagging plates with a desired color will be available; this is possible because colored synthetic resins are added in the protrusion stage. Due to various color choices, our product can match an installation site. In addition, our resin lagging plate product has basic advantages, including anti-corrosion and self-weight reduction effect, due to characteristic of resin material. As the internal space has a honeycomb shape, the product has enhanced pressure resistance to sufficiently withstand earth pressure, thereby realizing improved reliability. The product can be produced in a thin thickness. For these reasons, the reduction of raw materials and the production of light weight products are the greatest advantages.
Resin Lagging Plate
Resin Lagging Plate

L1000 x W150 x T70 mm